Metal Deck Roll Forming Machine
Description
The complete metal deck roll forming machine line includes decoiler, main machine, computer controlling system and run out table. Metal decks with various thicknesses are new building materials. The metal decks produced by our metal deck roll forming line machinery are widely used as floor or roof of building. They are used as the floors or roofs of building because of low cost, light weight but high strength, short building period, and re-cycle use. Common roll forming deck profiles cover roof deck, floor deck, bridge deck, specialty deck, etc.
Features
1. The metal deck roll forming machine is configured with multiple stations, which increases the strength of the machine.
2. Metal deck roll forming line machinery, totally controlled by PLC, is fairly easy to operate. It can work automatically only through inputting the related production data, such as product number, length, punching size, etc.
3. Different deck roll forming machines can produce different shapes of steel decks according to the clients' profile drawing requirement.
4. Our deck roll forming lines can produce heavy, long and wide sections to suit all your deck and paneling needs.
5. Dots can be made on the metal deck according to needs so as to increase the friction between the steel and concrete, and increases the fastness of the floor or roof as well.
6. The metal deck made by our deck roll forming machine is easy to install, which helps to reduce installation labor.
Specification of Metal Deck Roll Forming Line Machinery

| | |
| --- | --- |
| Thickness | 0.8 to 1.5 (mm) |
| Speed | 15m/min |
| Roll station | 28 to 48 (stations) |
| Main power | 30 Kw |
| Hydraulic power | 5.5 Kw |
| Control system | PLC (Panasonic) |
| Drive | By chain |
Profile Drawing of Metal Deck


Application of Metal Deck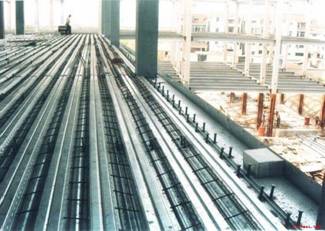 Metal Deck Layout Drawing


Pictures of Metal Deck Roll Forming Line

Packing Roller
Cutting Section
Partial Picture
Operation and Maintenance of Metal Deck Roll Forming Line Machinery
1. If you need to adjust the machine, please firstly stop the machine before carrying out relevant operations.
2. Chain wheel, bearing and speed reducer of metal deck roll forming machine should be lubricated regularly.
3. The forming roller should be kept clean.
4. With high performance in operation, metal deck roll forming line machinery generates little noise.
SUZHOU MANFENGXIANG TECHNOLOGY CO.,LTD. is dedicated in designing and supplying manufacturing different steel cutting, bending and forming equipments, including tube mills, roll forming machines, etc. Apart from tube making machine and steel roll forming machine, we devoted ourselves to the research & development of various kinds of other products related to steel structure, such as hydraulic press brake machine, roll former, shearing machine, slitting machine, cutting machine, production lines of guardrail sheet for expressway, shutter doors, and garages doors, etc. Our metal deck roll forming line machinery for floor and roof decks are well received by customers from North America, South America, Europe, Middle East, Southeast Asia, Russia, Australia and other regions. Welcome to visit our company and discuss your needs face to face.
Related Product
Guard Rail Roll Forming MachineGuard rail roll forming machine is used to produce guard rails or crash barriers. Hot rolled, galvanized or other steel sheet and coil is suitable roll forming materials for this machine. This machine is mainly made up of loading coil car, exit looping kit, roll former with tooling, automatic stacking device, flying cut-off machine, servo roll feeder, leveler...