Pedal Plate Roll Forming Machine
Introduction
Pedal plate roll forming machine is controlled by control panel and simple push-button, so it is convenient to operate. Like other Suzhou Manfengxiang machinery, it is reliable in performance. Parameters are as follows:
1. Rolling speed is 12 m/min to 15 m/min.
2. It has 20 roller stations.
3. The main power is 11 KW, and the hydraulic station power is 7.5 KW.
4. This pedal plate roll forming machine is controlled by PLC (Panasonic) system.
5. Available sheet thickness ranges from 1.5 mm to 3 mm.
6. It is driven by chain.
Pictures for Reference
1. Un-coiler& Leveling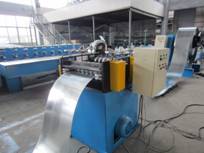 2. Punching Machine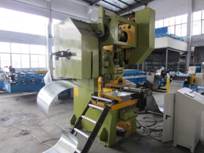 3. Leveling& Punching Machine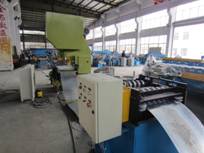 4. Pedal Plate
Like pedal plate roll forming machines, other machines, including tube mills, roll forming machines, uncoiler, stacker, hydraulic guillotine shearing machine, CNC hydraulic press brake, etc. are featured by high accuracy, easy operation, convenient maintenance and high efficiency.
Related Product
Rack (Shelf) Roll Forming MachineRack roll forming machines, also known as shelf roll forming machines, shelving rack roll forming machines, shelving roll forming machines or shelves rack roll forming machines, can form metal sheets into rigid metal profiles for high storage units. These metal racks are widely used to support and bear goods and merchandise in the stores or in the warehouses. As specialist...