Stud and Track Roll Forming Machine
Description
A whole stud and track roll forming line consists of passive/hydraulic single/double un-coiler, roll forming machine unit, hydraulic automatic cutting unit, PLC automatic control cabinet, and products run out table. Steel stud and track roll forming machine is configured with stud and track kit. It is capable of producing steel stud and track in different specifications. These steel studs and tracks can be used in both wall and floor/roof framing.
Features of Stud and Track Roll Forming Machine
1. This machine is fully automatic and it can achieve high speed producing continuously. It makes 24 hour service possible because of an electro-mechanical adjustment.
2. A roll forming line can produce various sizes of stud and track just by simply and easily changing the spacers, which enables the production of different sizes studs and tracks on the same rollers.
3. This stud and track roll forming machine can process steel sheets with thickness 0.3mm to 1.2 mm.
4. The stud former is able to produce studs with different sizes by an electro-mechanical adjustment. Tracks with different leg heights can be made without roll changes.
5. This machine can produce studs and tracks in an extensive range of material gauges.
6. The flare condition that is common in pre-shear operations is eliminated with our machine.
7. This can be supplied with pre-pierce and pre-shear dies, which eliminate single shear dies with numerous shear blades. Dies can also be supplied separately as an upgrade to your existing roll forming lines.
8. Fast changeover is done by in-line dies and hydraulics.
Parameters of Stud and Track Roll Forming Machine

| | |
| --- | --- |
| Model | MFX-50-152L |
| Number of stations | 17stations |
| Thickness | 0.3mm to 1.2mm |
| Main power | 7.5Kw |
| Dimensions | 6m × 0.8m × 0.75m |
| Forming speed | 18 to 30 (m/min) |
| After forming | 50mm to 152mm |
Application of Stud and Track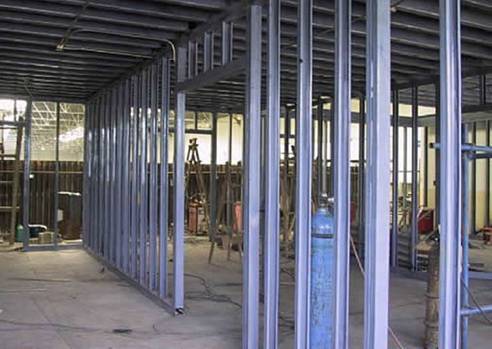 SUZHOU MANFENGXIANG TECHNOLOGY CO.,LTD. is engaged in supplying different steel processing equipments, including tube mills, roll forming line, etc. Besides tube mills and roll forming machines, other machines manufactured by us, including uncoiler, stacker, hydraulic guillotine shearing machine, CNC hydraulic press brake, and other machines also feature high accuracy, easy operation, convenient maintenance and high efficiency. Our stud and track roll forming machines and other products have been passed CE certification and sold to more than 50 countries and regions, including Russia, France, England, Australia, America, Kazakhstan, Tajikistan, Malaysia, Nigeria, Romania and Albania. Manfengxiang is always ready to provide the best solution for your production requirements.
Related Product
Guide Rail Roll Forming MachineThe guide rail roll forming line includes feeding device, de-coiler, roll forming machine, saw cutting device and PLC control system. The finished guide rails are commonly seen in elevator, doorframe, window frame, curtain track, electrical wiring trough as well as other devices that need sliding system.1. Guide rail roll forming machine adopts multiple stations to...